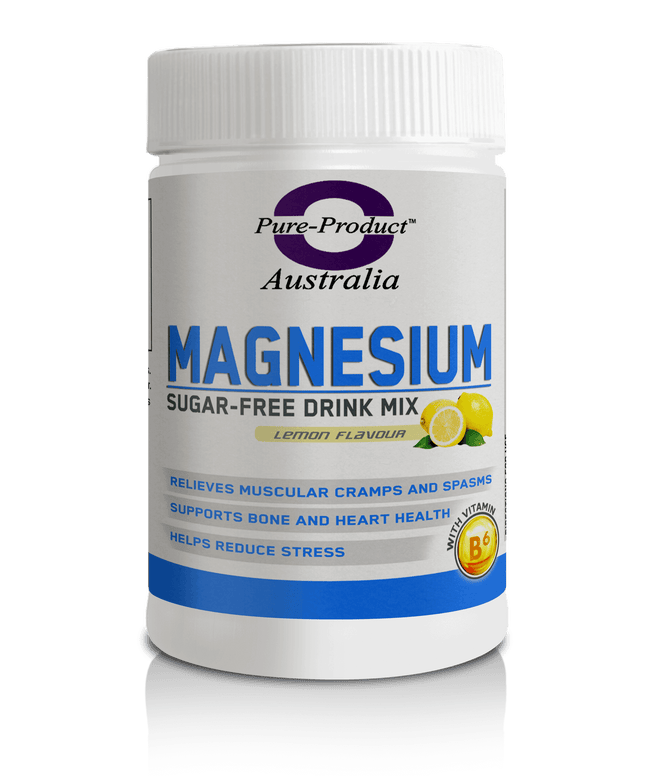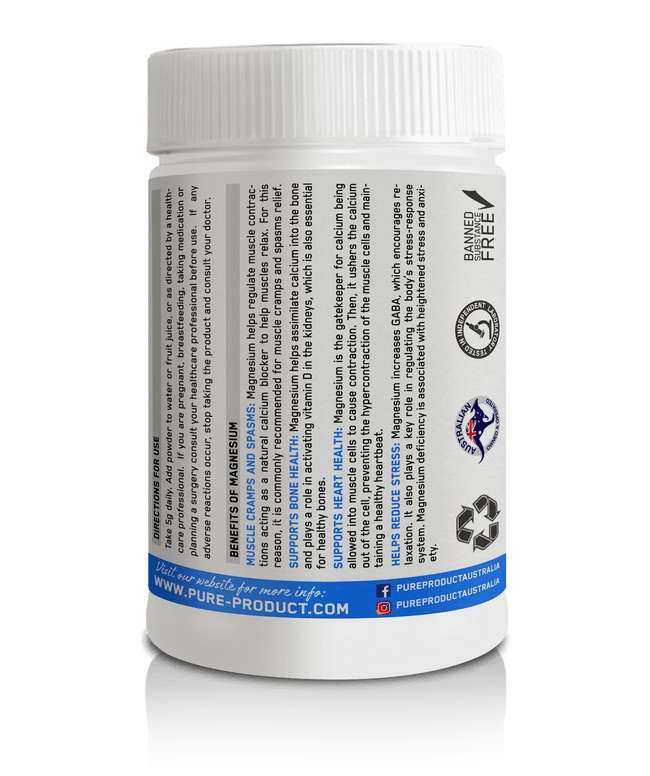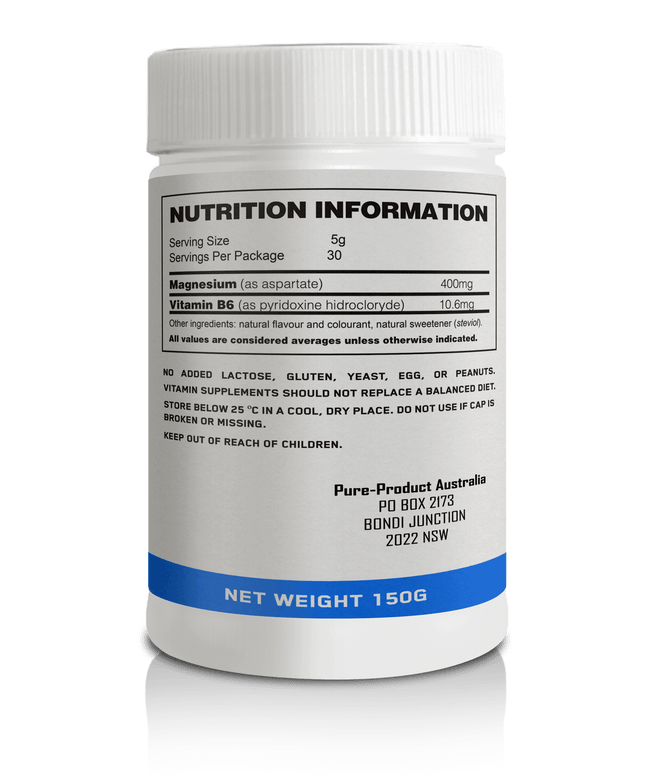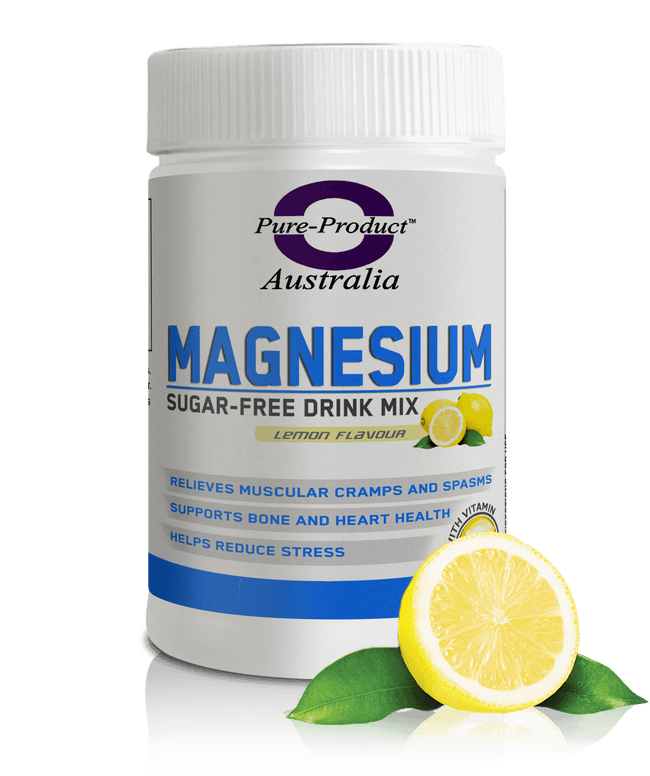 Magnesium Powder (Sugar-free drink mix) is a mineral vital for the proper functioning of the body. As the body can't make it, you need to obtain it from your diet. 
Though it's possible to get adequate amounts of this mineral from your diet, taking a supplement may be helpful if you struggle to meet your needs through food or if you're deficient. 
Low magnesium levels in the body have been linked to diseases such as osteoporosis, high blood pressure, clogged arteries, hereditary heart disease, diabetes, and stroke. Symptoms of Magnesium deficiency include muscle spasms and cramps, muscle weakness, fatigue and lethargy. 
Pure Product Magnesium combines 400mg of magnesium with Vitamin B6 for a better absorption. 
 Benefits of Magnesium: 
• Muscle Cramps and Spasms: Magnesium helps regulate muscle contractions acting as a natural calcium blocker to help muscles relax. For this reason, it is commonly recommended for muscle cramps and spasms relief. 
• Supports Bone Health: Magnesium helps assimilate calcium into the bone and plays a role in activating vitamin D in the kidneys, which is also essential for healthy bones.
• Supports Heart Health: Magnesium is the gatekeeper for calcium being allowed into muscle cells to cause contraction. Then, it ushers the calcium out of the cell, preventing the hypercontraction of the muscle cells and maintaining a healthy heartbeat.
• Helps reduce stress: Magnesium increases GABA, which encourages relaxation. It also plays a key role in regulating the body's stress-response system. Magnesium deficiency is associated with heightened stress and anxiety. 
Magnesium is particularly important for active people and athletes, as they typically need even more magnesium than other people and may experience reduced exercise performance if they're not obtaining adequate quantities from their diets. 
Magnesium may also assist in the management and symptomatic relief of premenstrual syndrome (PMS) in women.
Take 5g daily (1/2 measuring scoop). Add powder to water or fruit juice, or as directed by a healthcare professional.
Caution: Do not exceed the recommended dose. Pregnant or nursing mothers, children under 18 and individuals with a known medical condition, should consult a physician before using this product. If any adverse reactions occur, stop taking the product and consult your doctor.
NO ADDED LACTOSE, GLUTEN, YEAST, EGG, OR PEANUTS. VITAMIN SUPPLEMENTS SHOULD NOT REPLACE A BALANCED DIET. STORE BELOW 25 ºC IN A COOL, DRY PLACE. DO NOT USE IF CAP IS BROKEN OR MISSING.
How is this product packaged?
This product is supplied in 150g tub.
Can Magnesium be taken with pharmaceutical medications?
If you are currently taking any medication, we recommend that you consult with a Healthcare Professional before consuming this product.
Has this product been tested?
We have strict quality control systems to ensure the highest quality and purity of the product. To see the lab test results, send us a message.